In the areas of Kenya and Ethiopia where lifestyle, high altitude, and personal drive have conspired to create long-distance runners of extraordinary strength, there's an open-call system where dozens of hopefuls show up for early morning runs that may include World Marathon Major champions, Olympic medalists, record holders, but also youngsters in cutoff jeans and bare feet with hearts bursting with desire. 
This type of talent foundry fires up every day, and if you show up and show your stuff, you'll eventually get recognized. And if the talent is true, opportunities will emerge. There is nothing as rudimentary in America outside pickup basketball in the inner cities. This isn't just mythology. It's how many of Kenya's greatest champions got discovered.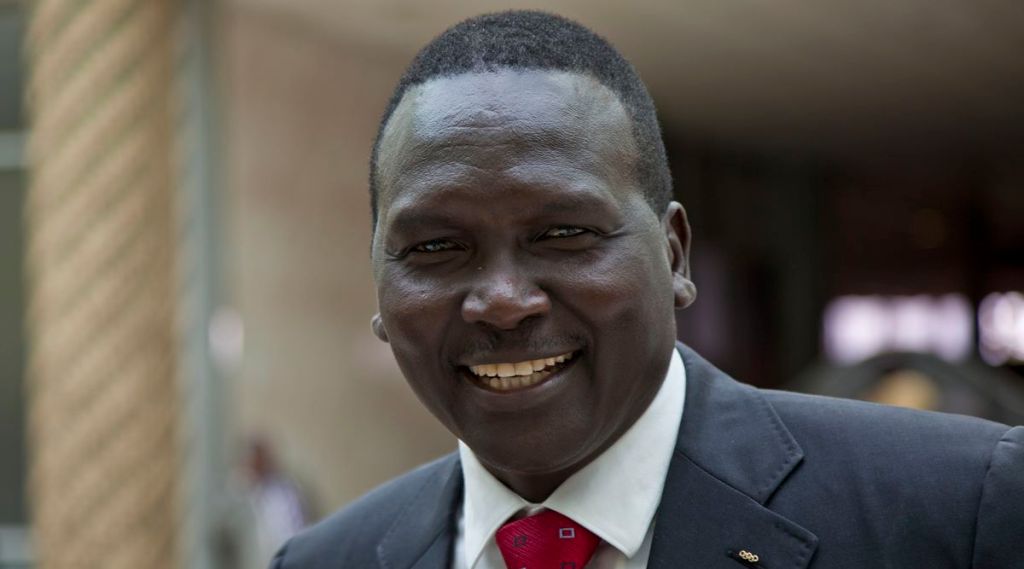 Today (June 17th) is Paul Tergat's 53rd birthday. And we wish him a most joyous celebration. Tergat is inarguably one of Kenya's greatest champions ever. Yet his backstory is an astonishing tale in its own right, one that makes you wonder what if?
Paul's ascension to the heights of running glory did not begin with the classic Kenyan coming-of-running-age story of a kid walking and running several kilometers to school each day over rolling red clay roads in the Central Highlands while dreaming of becoming Kenya's next grand champion. We have heard that story so many times we think it is axiomatic. But it isn't universal.
With Mr. Tergat, a five-time World Cross Country Champion (1995-1999), two-time Olympic 10,000m silver medalist (1996 + 2000), and marathon world record holder from 2003 to 2007 (2:04:55), we have the hero to a generation of young Kenyans. Yet as a youngster in the village of Riwo, Baringo District, in Kenya's Rift Valley Province, running wasn't even on his radar.
"I never knew runners growing up," admitted Paul in January 2003 while hosting a small luncheon at his training base home in Ngong on the outskirts of Nairobi. "It wasn't until I joined the Air Force in 1991 that I met Moses Tanui, Richard Chelimo, and John Ngugi. Before that, I never thought about running."
Imagine. The greatest Kenyan runner of his generation almost didn't become a runner at all. But fate has a way about such things. And the fates wanted Paul Tergat to run.
"Here," said the always gentlemanly Mr. Tergat as he passed a bowl of fruit to his guests. "You must try this. Everything has come from my garden."
Our lunch with Paul came just a few hours after the final cross-country race of his storied overland career. That morning, amidst the pomp and ceremony, he had taken third place at the Kenyan Armed Forces Championships at the famed Ngong Race Course. Paul hadn't intended to race, but after one of his Moi Air Base teammates pulled out with an injury, the squad needed a replacement.
How's that for depth? Their top reserve just happened to be a five-time world cross-country champion (1995-1999).
Many a young person, in many a country, in many a different era, has joined the military to better his or her life. It's where Paul Tergat found his opportunity, as well.
"I had heard of Kip Keino," explained Paul of Kenya's first and greatest champion, "but I had never seen him or knew even where he lived. But once I saw these men going running every day after I joined the air force, I began to pay close attention. Before that, I had hoped to learn about engineering. That's why I had joined."
What he wondered with his engineering mind was how these men could do what they did. Was it a special diet? How they slept?
That same year, he ran in the Armed Forces Cross Country Championship for the first time and didn't beat a single soul.
"I was so totally exhausted after 12k," he chuckled. "But one coach told me he would take me to a training camp afterward for one month."
Living in a small tent in the Ngong Forest, Tergat found the regimen of the training camp both brutal and humbling.
"Each morning they would wake up early and begin very slowly. But then the pace would suddenly become very strong. I couldn't keep up. Sometimes I would stop and catch a ride back to the camp on a military truck because they would take us by truck very far for training and I did not know the place."
Back at the camp, an exhausted young Tergat would watch while his new friends, who had done the entire training run, would sit around telling stories, drinking tea and eating breakfast before going out for another run at 10 a.m.
"I told my friends back home that I was with these famous men in training. But they would not believe me, because my name was never in the newspaper or on the radio."
The men Tergat mentioned, Moses Tanui, Richard Chelimo, and John Ngugi, were among the crème of Kenya's growing world dominance in the 1990s. Tanui became a world half-marathon champion and two-time Boston Marathon winner, Chelimo would briefly own the world record at 10,000 meters, and John Ngugi, like Tergat, would don five world cross-country crowns, and unlike Paul, nab an Olympic gold medal at 5000 meters, as well.
If there was a turning point for Paul, it came in the summer of 1991. When the other men left for a series of competitions in Europe, Paul was left at camp by himself.
"I had a big chance now," he recalled, the memory animating his angular, high-cheek-boned face. "I realized then that it wasn't the diet, or how to sleep, which made my friends so fast. Rather, it was the decision in the heart."
So while his friends were racing in Europe, Tergat went to the forest each morning and trained his heart and his legs very hard. By the time his friends returned to the camp, they could no longer run away from him. By October, he finished third at the national cross-country trials.
"Within a year, I was on top. And I won my first national championship the following March in 1992 at age 19."
The rest, as they say, is history: Five straight world cross-country titles, two Olympic and three world championship silver medals at 10,000 meters, two world half-marathon championships, and a raft of world records including in the marathon. His gut-turning tussles in two Olympic 10,000-meter finals against great Ethiopian rival Haile Gebrselassie are the stuff of legend.
Today, Mr. Tergat's face has filled out as befits the President of the National Olympic Committee of Kenya. Last year, the IOC President Thomas Bach appointed him to the Disciplinary Commission during the Tokyo Olympics. The former champ ion was also re-elected as a Member of the International Olympic Committee (IOC) for another 8-year term.
At home, he has set his sights on irradiating the PED cancer that has metastasized in the Kenyan running scene. It won't be easy as all the fallibilities of the human heart are as deeply ingrained in the Kenyan psyche as in any other. But if Mr. Tergat can treat the disease successfully, what a coda it would be to his legend as a runner. We wish him well, and happy birthday, too. Thanks for the lunch, Paul, and for the many memories.
END