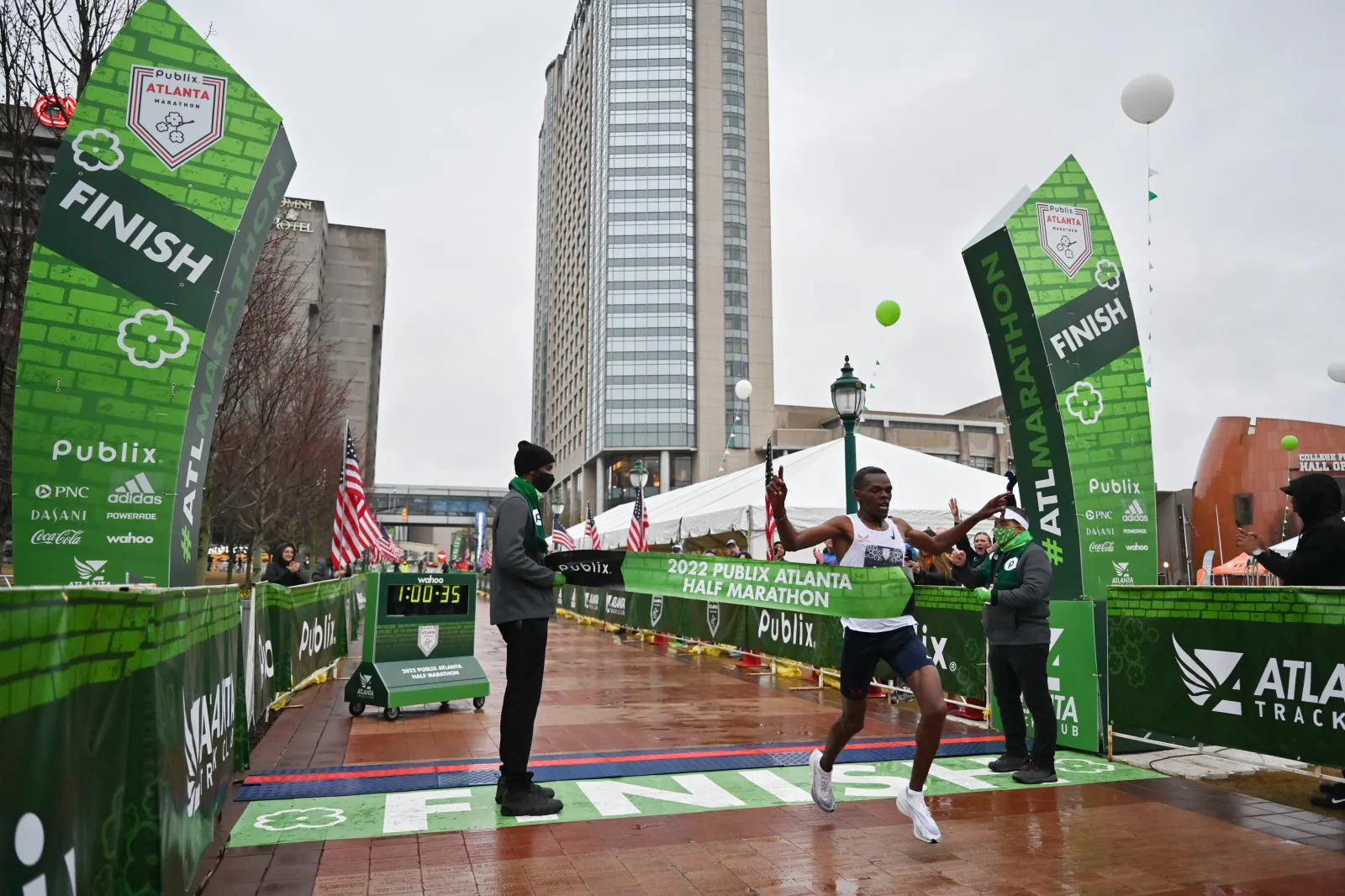 Nicholas Kosimbei (1:00:36) wins the 2022 Publix Atlanta Half Marathon in fastest time in GA. history
With a goal of ensuring "track and field, road racing and cross-country remain free and accessible to fans and easily discoverable by potential new fans," the Atlanta Track Club announced on 1 Feb. 2023 that beginning with the Publix Atlanta Half Marathon on Sunday, February 26, it will begin producing all its own race and event broadcasts. 
Toward that end, ATC signed a multi-year agreement with LTN, a leading media technology company, to provide all broadcast infrastructure. The Club itself will produce all content, secure talent and stream the broadcasts to its social media channels, including YouTube and Facebook Live. The streams will be free and globally accessible.
Atlanta Track Club President, Rich Kenah, has always been an innovative leader, from his days with Global Athletics in Boston to his tenure in Atlanta. And his intentions and goals are purposeful and worthwhile. However, there are tradeoffs in adopting any new method. Case in point, LIV Golf.
In 2022, LIV Golf, the breakaway pro golf league funded by the cavernous Saudi Arabian oil pockets, came on the scene and signed many of the top name players from the PGA Tour. Yet, in their first season of play, only LIV's own YouTube channel aired their tournaments, as they had no broadcast partner. 
For its part, ATC is taking an opposite tack from LIV in going alone and away from traditional broadcasting. While ATC says their new system of in-house produced telecasts will make their shows easily discoverable by potential new fans, ask LIV Golf how well their YouTube shows went in 2022. 
So well that for year two they signed with the CW Network as their broadcast partner, a network that airs The World's Funniest Animals and Nancy Drew Mysteries. LIV Golf is the only sports programming on the CW Network. Yet, they still saw it as an improvement over YouTube. 
"LIV Golf's television deal with the CW Network was not ideal, but it was the next step in making them legitimate", wrote Tom D'Angelo for a piece in the Palm Beach Post on Jan. 25. 
In his piece, D'Angelo quoted Lisa Neirotti, a professor of sports management at George Washington University. She specializes in sports entrepreneurship and the importance of media rights for start up leagues. Neirotti acknowledged that LIV's partnership with CW – which is believed to be a revenue sharing deal without a rights fee being paid – is not a great, but added, 'it oftentimes is necessary to give away a product to grow that product.'
"We can criticize at all we want," Neirotti told D'Angelo. "But they have to be able to get themselves on a network. That's the first step for any growing sports property, to be able to get themselves on a network. Now it's up to that property to bring the eyeballs to the network. 
"The only way they're going to be able to do that is if they are able to really help promote it during different programs. So people who watch CW for news, people who watch CW for other shows, there needs to be a promo spot saying tune in on Saturday at 1 PM."
Like YouTube and FB Live, FloTrack, Runnerspace, and USATF.TV are narrowcasters – some behind paywalls – targeting an audience already drawn to their product. Local or network coverages are produced by broadcasters, who bring your product to a broader, though initially less interested viewership. 
In my 40+ years of broadcasting running events, including ones in Atlanta, I could see the difficulty local stations had in showcasing running events. 
First of all, there is no league or competitive structure to contextualize or build coverage around. Every event is a universe of one. Second, unlike the episodic nature of most American sports, where there is a shot, a pitch, or a play every 24 to 30 seconds, in a game that is segmented into quarters or halves, in which there are many highlighted plays leading to a final score, running is a non-stop, building drama that leads to a single moment of competitive clarity in the crowning of an eventual champion. 
Or, in the case of running, many champions in many categories. In fact, there are often so many different categories, none comes into sharp focus long enough to hold the attention of the audience. On top of which, the sport does not form its athletes into city or school-based teams. Instead, they most often represent shoe companies. Thus, many of the competitors, though not aligned with one another in any competitive way, wear the same uniforms. 
Plus, there is a quickly revolving cast of players, most of whom the audience has no knowledge of, or a rooting interest in. That's a hard task for a general broadcaster and a hard sell to the average viewer. To make up for this, local stations, whose talent doesn't follow the sport or understand its nuances, bounce around to their field reporters, show feature segments, highlight charity causes, and other event elements to avoid showing long stretches of running. 
What they don't have faith in is foot racing's ability to hold broad audience attention, especially when the athletes being presented are anonymous and interchangeable and compete for what are very low stakes in the world of professional sports. The question arises: what about this presentation is interesting to the average viewer?
In the old days, when the sport was brand new, there was a freshness to foot racing. But that novelty has long since worn off. Furthermore, the home team has significantly withered, as have almost all the international cast of characters that once populated the front pack of races.
When you log on to a streaming service like Flotrack, Runnerspace, USATF.TV, or YouTube, you bring an already established interest with you. But where are the cross promotional opportunities Professor Neirotti spoke about for the non-running fan to be introduced to the event and the coverage? 
I just received an email this morning from H&A Media, the people who manage the TV production and international distribution of the Dubai Marathon. They are looking for a select number of running websites to embed their live streaming code to further broaden their YouTube Live audience for the February 12th race, which promises, as ever, to be fast as hell. This outreach is another attempt to broaden interest, but still from within the existing ranks of the sport.
Broadcasting running events has long been problematic. Only the most iconic of races can to draw even a local audience. USATF, it is thought, is considering eliminating many of the USATF national road championships for lack of interest. 
It's a constantly changing landscape, one in which the Atlanta Track Club and the Dubai Marathon are experimenting with new ways of addressing the future of a sport that may never find its end of the rainbow. While there are no guarantees, standing pat is less and less likely to produce a satisfactory result. In that spirit, we wish them good fortunes and many eyeballs ahead.
END
As always, please consider: